Development of a Cold Rolled Steel Starburst Core Die for the Diesel Trucks Industry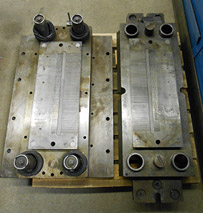 With more than 50 years' experience, CLL Engineering is highly capable of innovating value solutions for unique manufacturing requirements. We fabricated this finely detailed starburst core die shown here for a customer in the diesel truck industry, it represents our ability to deliver a novel solution for a singular application.
Our precision step-by-step process began with a design review, followed by a 3D CAD rendering to validate the die design and simulate the manufacturing process. Fabricated from cold rolled steel, our master toolmakers utilized a variety of capabilities, including prototyping, machining, heat treating, finish grinding, and assembly, to complete the diemaking process. The finished die featured dimensions of 30" in length, 20" in width, all to tolerances of ±0.001". A die try-out, combined with a long list of inspection procedures, ensured that our customer's end-product requirements would be met.
With careful consideration of tolerances, finishing requirements, and all other project parameters, we were able to deliver this starburst core die to the customer on time and within budgetary constraints. For more information about this project, or how our expert die making skills can benefit your next project, contact us today.
Highlights of this Diesel Trucks Industry Project
Product Description

Starburst Core Die
Core Die Capabilities Applied/Processes

Primary:
Prototype Tooling
Engineering & Design
CNC Machining
Tool Assembly

Secondary:
Heat Treating
Equipment Used to Manufacture Part

Wire EDM, CNC Mill, Jig Grinding
Overall Part Dimensions

Width: 20"
Length: 30"
Tightest Tolerances

± 0.001"
Material Used

Cold Rolled Steel
In process testing/inspection performed

Piece part inspection
Industry for Use

Diesel Trucks
Volume

1 Starburst Core Die
Delivery/Turnaround Time

14 Weeks
Delivery Location

International
Standards Met

Customer supplied print, 2D CAD Drawing
Product Name

Starburst Core Die
Additional Images