Design & Development of Stainless Steel Tooling for the Heavy Truck Industry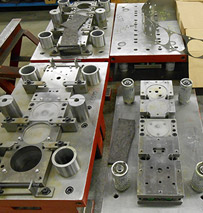 Precision is key in die making, and the services of CLL Engineering are often called upon to fabricate tooling with extremely close tolerances for specialty applications. We fabricated the progressive die tooling shown here for a customer in the heavy duty truck industry for use in the manufacture of an embossed stainless steel gasket.
Working with the customer specifications, we designed and prototyped the male and female stamps to mark the material surfaces while maintaining the proper clearances to produce thin parts at high speeds. Machined from stainless steel to precision ± 0.001" tolerances, this 5 station progressive die features overall dimensions of 20" in length and 32" in width. Full dimensional inspection and analysis ensured accuracy and long term reliability of the tooling.
In use on the factory floor, the expert craftsmanship and attention to detail that went into its manufacture is proving itself by delivering accurate and repeatable production of the tight tolerance gaskets according to the customers exact specifications.
If you are interested in learning more about this project, or how our expert die making skills can advance your production goals, contact us today.
Highlights of this Heavy Truck Industry Project
Product Description

Tool for Stainless Steel Gasket with Embossments
Progressive Stamping Die Capabilities Applied/Processes

Primary:
Prototype Tooling
Engineering & Design
CNC Machining
Tool Assembly

Secondary:
Heat Treating
Equipment Used to Manufacture Part

Wire EDM, CNC Mill, Jig Grinding
Overall Part Dimensions

20" x 32"
Tightest Tolerances

± 0.001"
Material Used

321 Stainless Steel
In process testing/inspection performed

Piece part inspection
Industry for Use

Heavy Truck
Volume

1 - 5 Station Progressive Die
Delivery/Turnaround Time

10 Weeks
Delivery Location

Indianapolis, IN
Standards Met

Customer supplied print, 2D CAD Drawing
Product Name

Tool for Stainless Steel Gasket with Embossments
Additional Images